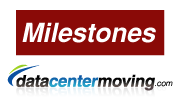 You can search the web for someone's data center move key milestones example or you can do the heavy lifting to discover the critical milestones that matter for your organization. If you're a project manager, you know the difference in successful outcomes when you follow proven methodology versus taking shortcuts modifying ill-fitting templates.
Many organizations approach a data center relocation without considering the business impacts as if the project is purely a technical endeavor undeserving of dedicated resources with experience planning data center moves. Understandably, shortcuts are often sought to compensate for these short-sighted decisions.
Instead of seeking boilerplate examples, seek out a relocation coach who can jump start your approach and help you avoid common mistakes. That way you focus on critical milestones that matter to your organization.
Key Milestones are found through a rigorous discovery process of asking the right questions and knowing when to drill deeper to mitigate business risk. Some of these critical questions include:
What are the overall success criteria for the move? No business interruption? Meeting an external milestone? Saving a target amount of money? No customer impacts?
What are the key events that the business already honors?
How mature is the disaster recovery for the information technology systems?
What constraints already exist in the organization? Limited budgets? Scarce resources for project management? Oversubscribed internal resources? Political in-fighting?
How well documented are the application inter-dependencies?
How well documented is the physical infrastructure?
How compliant is the software licensing?
How mature is the information technology processes and can they accommodate the disruption that a move entails?
Does your organization properly evaluate time, cost, and risk? Or it more likely to blindly minimize cost at the expense of significant risks to reputation and operation?
In addition to these critical questions, key milestones are influenced by established governance as discussed previously. If this needed decision-making framework is not established early, all milestones will suffer from schedule elongation and ineffectiveness.
By asking the right questions, you'll start to develop a sense of the urgency and will be able to effectively order the milestones to accommodate your organization's resources, constraints, and abilities.
Approach your data center move as a unique event. Instead of grabbing a plan from the web and committing expensive assumption errors, take the time to execute the process of getting your checklist right. Get the help you need early on to make your move successful.