How does a rehearsal improve your data center move success?
Moving a data center is a huge undertaking. Having a plan to support the move and limit potential business disruptions is critical to a successful move. The plan must be well thought out and provide step-by-step instructions for each phase of the project.
Rehearsing the data center move is the single best step to take before you move a single application or server. These rehearsals will build your team's confidence ahead of the move date by allowing them to get comfortable with executing the plan. They will also help you identify flaws in your plan and potential stumbling blocks that need to be removed.
When planning for your rehearsal meetings, be prepared to have to break through resistance and a lack of interest from your team. While they want the move to be as successful as you do, it is normal they feel that the rehearsal is not necessary. After all, they participated in the development of the plan, they know what is expected of them – what's the point of discussing it? This resistance often leads to distracted teams. Combat this by preparing to engage the team with questions around responsibilities in the move that will drive an open, lively discussion.
Difficulties arise navigating rehearsal meetings with a room full of skeptical professionals including superficial meetings or skipping them altogether. This can often have very painful results for a data center move.
A few examples of what can go wrong when rehearsals are skipped include:
• Discovering that you do not have access to critical external application documentation on the day of the move.
• Learning during the move that not enough human resources have been dedicated to successfully complete the move.
• Identifying limitations with the planned budget to support the project.
The moral of the story? Before the rehearsals begin, you must prepare to convince the team of their importance to ensure engagement in this critical process.
For a full guide to preparing for a data center move (including rehearsals), check out my book, "What Everybody Ought To Know Before Moving A Data Center."
---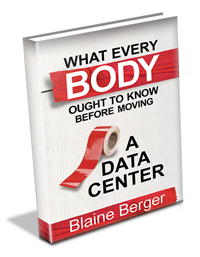 Blaine Berger is the author of What Everybody Ought To Know Before Moving A Data Center.
Let's discuss working together.
E-mail me at blaine@e-oasis.com .