Most data center moves are exercises in trade-offs. You won't have enough resources, money, or time to complete the data center move. In fact, your shot clock is likely already running by the time you realize the magnitude of the project.
Copying someone else's project plan is a common strategy to give the project a kick start. However, it's also a great way to miss entire risk categories and give you a false sense of progress.
Instead, find answers to these preliminary questions:
What will actually be moving? (Specifically, which applications and systems will be moved?)
What decisions have been made in terms of destination, transportation, and resources used?
What tolerated downtime exists? How can zero downtime be accomplished?
What are the other constraints, such as milestones, budget requirements, and business drivers?
Focusing on these basic questions will help you to arrive at a move narrative and inform the planning process. This feasibility analysis along with the entire move process is covered in my book "What Everybody Ought to Know Before Moving a Data Center"
This easy to understand guide helps first timers understand the problems that must be solved for a data center move.
---
My new book is now available in paperback on Amazon.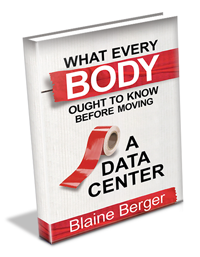 Blaine Berger is the author of
What Everybody Ought To Know Before Moving A Data Center.
Let's discuss working together.
E-mail me at blaine@e-oasis.com .