Previous to my consulting career, I spent over a decade with IBM inside many large data centers. The data center remained in a state of constant change. Equipment moved in and out frequently and this equipment was much larger than the hundreds of smaller servers you find in today's data center. Many other things have changed inside the data center, but moving it is still challenging.
There is rarely an accurate physical and logical inventory of the contents of a data center for a variety of reasons, but those two elements are critical to your decisions about moving the data center. In fact, seven elements make their appearance in virtually every move playbook I build:
The Master Inventory
The Application Dependencies
The Master Timeline
The Sequencing or Batting Order
The Stakeholder Communications Matrix
The Contingencies
The Go/No-Go Criteria
Building a move playbook is not a linear sequence of events. The resources you need for each playbook component will also vary. Your inherited schedule and limited budget will tempt you to cut corners and rush the playbook development.
Consider what tasks can be done in parallel. Recognize these tasks will finish at different times with varying accuracy of results. Move playbooks are multi-author work efforts in large firms. This means your attention to specifying a container for the work will help writers focus on content. Revise your container as new information is uncovered.
---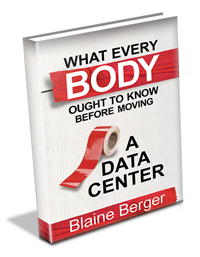 Blaine Berger is the author of What Everybody Ought To Know Before Moving A Data Center.
Let's discuss working together. E-mail me at blaine@e-oasis.com .