How often has your manager pushed you for a budget before the full scope of the project is known?
When is the project going to be done and how much will it cost?
When designing your data center move budget, the most common error is thinking that the budget is complete. In many cases, low-end budgets are created in the hope that the project will get started and go perfectly. In practice, that rarely happens.
Early on in the planning phase, it is helpful to focus on a flexible and realistic cost model rather than a strict budget. Budgets can be broken too easily when the unexpected happens. A cost model creates a plan for how to handle contingencies in your data center move.
Start with a Narrative
Creating a narrative about how the move will work ties the spreadsheet numbers to requirements and their contingencies. For example, moving during the holidays may seem like a good idea to decrease lost working hours of your usual staff, but when you weigh that against the increased costs of having vendors work on the move over a holiday, you might end up paying more for that decision.
The narrative also allows you to break your costs into specific phases that can get more specific as the plan is finalized. Most firms forget to add in the costs associated with preparing, presenting, and altering the budget. Others may miss the costs of server downtime or the costs of running duplicate facilties of servers to decrease or eliminate downtime.
Budgeting using a cost model is just one of the many key elements covered in "What Everybody Ought To Know Before Moving A Data Center."
---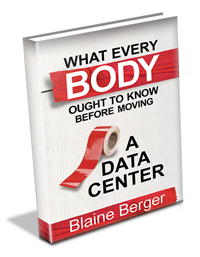 Blaine Berger is the author of What Everybody Ought To Know Before Moving A Data Center.
Let's discuss working together.
E-mail me at blaine@e-oasis.com .