Is your data center too costly to operate and you need to consider alternatives?
In the past, building and moving to a new facility or using colocation services were the options chosen without much thought. The time required to find a new space is often underestimated and using colocation services may work for a while, but there will be added costs when everything is done in a crisis-led mode.
For these reasons, many IT professionals are now seeking help from Cloud computing providers. This differs from traditional data center expansion because you are not physically moving equipment. You are really only moving your business applications and data onto hosted systems or virtual servers. In some cases, you even trust the operations of your applications to outsiders as your IT staff transitions to vendor management instead of hands-on operations.
Like a traditional move, however, there is still a need for planning ahead and making sure the service provider's facility, hardware infrastructure, network, applications and data are all secure. Designing your new home in the Cloud is but one step of a migration that demands resources, planning, and execution.
How do you get started?
• Prepare a budget. Nothing happens without the fuel a budget provides. There are still labor and compliance costs involved at the provider's site and other expenditures such as retraining your employees on how to use the Cloud and added security testing to make sure your data is safe. Your budget should be tuned to the total cost of ownership to accurately reflect the cost to your business.
• Dedicate a team. Dedicating a team of professionals whose main focus is moving company applications as quickly and securely as possible is key to your success. If employees are trying to juggle their regular tasks while also trying to focus on this, important issues may fall by the wayside. Having a team whose main purpose is to analyze and study any problems that may arise will make for a smoother transition.
• Identify the alternatives. Understanding the alternatives to a Cloud move helps you shape the project with deliverables the Cloud must meet. After all, if the alternative is better than the Cloud, why are you moving to it in the first place?
Moving to the cloud is just one of the important topics covered in "What Everybody Ought To Know Before Moving A Data Center."
---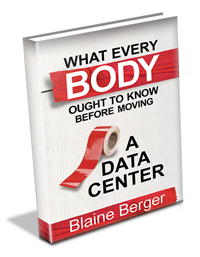 Blaine Berger is the author of What Everybody Ought To Know Before Moving A Data Center.
Let's discuss working together.
E-mail me at blaine@e-oasis.com .