Every data center move is unique and every move is important to us. We've updated our popular data center moving guide for 2011. Enter your e-mail address in the form on your right to receive this 28 page guide.
E-Oasis Wants to Earn Your Business
While many white papers are written carefully to disclose very little information, ours are different. Make no mistake – we do want to earn your business  by planning your data center move. However, we think the best way to do that is to explain the anatomy of a data center move including common mistakes to avoid.
This 2011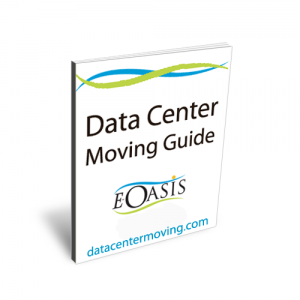 edition of the data center move guide contains:
Is Your Move Feasible?
Anatomy of a Move

How Much Is This Move Going to Cost?
Assumption Errors Cost Money
Example Data Center Move Categories
Site Selection
Pre-Move Planning
Teardown
Transit
Arrival
Re-Assembly
Post-Move

Top Mistakes to Avoid
Virtualization and Data Center Moving
Next Steps
Get your guide by providing your e-mail address in the sidebar on your right.
Why do we require a valid E-Mail address?
We want to communicate with you about your data center moving project.  You can browse our site to learn about data center moving without providing your e-mail. We encourage you to do that now.
Your e-mail address always remains private.
Survive or Thrive?
Data center relocations are major projects. But just surviving the relocation may prove to be the wrong strategy. Our relocation planning will save you money, help you avoid costly and potentially embarrassing mistakes, and minimize the disruption to your business.
Take a tour if you are a first-time visitor to learn more about data center moving.
We move data centers.
Put our systematic methodology for planning and moving a data center to work for you. We  make you the Superhero of your move.
Planning – Helping you avoid costly mistakes with our data center move playbook.
Execution – Keeping the data center move on-track.
Post-Move Support – Critically important post-move services ensures success.
Give us a call. We're ready when you are.