A table top exercise can illuminate weak points in a complex plan or test the ability of professionals to respond to scenario-driven events. These exercises should be standard operating procedure in an Enterprise as a way of removing surprises from complex events and gaining practice with disaster recovery testing, data center relocations, and critical response processes.
But how do you avoid the common mistakes when conducting a table top exercise? It's true that most IT staff can not differentiate between a well choreographed table top exercise and just another technical meeting in the conference room.
Use an outside facilitator – The problem with using in-house staff comes down to personal and technical bias. For example, an in-house facilitator typically does not challenge strong-minded technical experts in a productive way and can easily overlook key weaknesses because the expert claimed superiority on the topic. Technical bias manifests when areas are given little exploration because the facilitator lacked the technical breadth to dig deeper into an issue.
Prepare the scenarios to be tested in advance – Too many exercises end up being a free-for-all which irritates the more senior technical staff. For every hour of an exercise, there should be about 6 hours of preparation.
Carefully select the participants –  Inviting everyone is like trying to bring the ocean to a boil. Another problem is inviting only technical resources who often miss the business impacts that the scenario is supposed to cover. This is where an outside facilitator can properly balance the backgrounds of the participants for a successful exercise.
Split up the table top exercise into manageable sessions – Trying to do too much leaves the participants feeling like nothing was accomplished. A complex scenario can be split into several sessions so that you can apply lessons learned to each successive exercise. Remember that your participants are likely to be interrupted with their real job functions and capturing them for uninterrupted and extended periods of time is not practical.
Documenting the table top exercise is more than just taking notes –  Too often these exercises do not properly document the revelations in a meaningful way. Instead, notes are distributed as if a court reporter dutifully captured every word. This is where a facilitator again adds value as internal staff are often loathe to follow up with coherent documentation of the exercise.
Do it over – A common mistake is to declare success just because the exercise was held once. Most internal staff do not want to repeat an exercise and have a built-in bias for representing the event as a success. An outsider knows when the complexities are not properly addressed as well as the difficult work of identifying the required action items. Often, a do-over is required. After all, do you practice hitting a baseball just once?
Well-run table top exercises are a lost art for most organizations even though their value has been proven for testing complex interactions of people, process, and technology.  Practicing disaster fail-over and fail-back, data center relocations, and critical incident responses are just a few of the uses of this proven technique.
Launch your data center move on the path to success  with "What Everybody Ought to Know Before Moving a Data Center"  by Blaine Berger.

This guide pays for itself in minutes by saving you days of online searching.
I wrote this book to strip the mystery from a data center move, and to: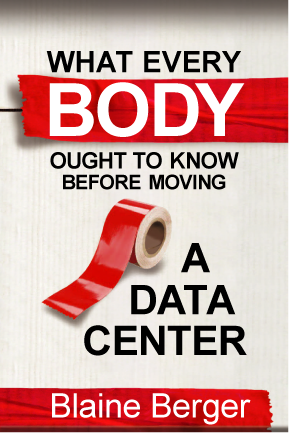 jump start project managers who want to understand the WBS (Work Breakdown Structure) category foundations
inform Executives about their budget process and cost model
warn Stakeholders to get Governance right
slice the Gordian Knot of decision paralysis
arm Human Resources to recognize key contributors versus the lazy, blanket recognition that demoralizes technical staff
Written in plain language, and organized to accelerate everyone's understanding, the book is particularly useful for on-boarding your stakeholders.