After budgeting, the most frequent question about a data center move is about the timeline. Every move is different and there is no typical timeline and yet project managers continue to search for the magic data center relocation template. Executives want to know how much the data center move will cost and when it can be completed.
Countdown to a Move
Most data center moves start under extreme duress. A deadline is imposed and staff is sent scrambling in all directions to meet the deadline. Far from the ideal, almost naive, recommendation to invest the majority of time in planning, the norm is an urgent flurry with a crisis mentality.
Is there a better way? Of course, but it's too late for your organization as your executives have already started the clock on you. All of the lessons learned about systematic project management with careful and deliberate planning windows have been erased and replaced by urgency and panic. That's quite a recipe for trouble but the real world is full of those kind of realities. In a perfect world, a data center relocation plan for a complex move can take between 12 to 18 months of composition, vetting, rehearsal, and iteration to mitigate the inherent risks.
You can continue to search the web for the elusive generic data center move project plan and convince yourself that your move is not unique or important enough to do the heavy lifting required to build a relocation plan.
Alternatively, you can seek experienced outside help to navigate through your important data center move.
Time is your Enemy
With the clock already running, the schedule compression is real and accelerating. If you are the data center relocation project manager it's time for less searching and more action. Consider these suggestions for attacking your data center move:
Establish a Common Sense of Urgency – Start at the top. You must engage the entire business, not just the Information Technology (IT) staff. If business executives don't know what is at stake or the complexity and urgency of your move, how do you expect to enlist the support you need to make tough decisions that will help you combat the ticking clock?
Make Some Decisions – Endless options are time killers. You can let these options run out your valuable time, or you can make some of these decisions to free up resources. Nothing wears thinner for IT staff than boiling the ocean of options and leaders who fear making the decisions they get paid to make. A data center move project manager has to be a catalyst for killing off the options and focusing the resources on a plan.
Face Reality – You were dealt this hand, how are you going to play it? If this is your first data center move, then get outside help. Figure out how to keep your executives informed and involved and deliver bad news with urgency and options.
What Everybody Ought to Know Before Moving a Data Center
This guide pays for itself in minutes by saving you days of searching online.
I wrote this book to strip the mystery from a data center move, and to: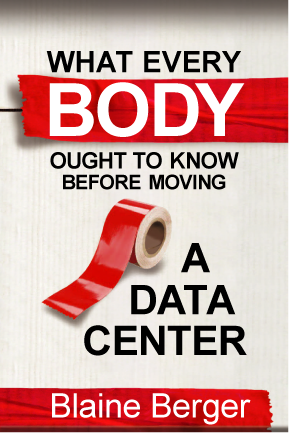 jump start project managers who want to understand the WBS (Work Breakdown Structure) category foundations
inform Executives about their budget process and cost model
warn Stakeholders to get Governance right
slice the Gordian Knot of decision paralysis
arm Human Resources to recognize key contributors versus the lazy, blanket recognition that demoralizes technical staff
Written in plain language, and organized to accelerate everyone's understanding, the book is particularly useful for the first-time Project Manager and will aid building a timeline.